Project Management Professional (PMP)® training
Project Management Professional (PMP) is an internationally recognised industry certification, offered by Project Management Institute, USA. Aptech offers PMP® exam preparatory course for project management professionals in the fields of IT, ITeS, power, energy, automotive, bio-tech, infrastructure & public sector.
PMP is a knowledge-based approach to project management, based on the PMBOK® Guide that describes the core practices and areas of project management. Better coordination of activities and teams through tried and tested project management approach leads to improved cost control and Return-On-Investment. More and more organisations are investing resources with careful thought and planning to achieve ROI. Therefore, project management is considered among the top skills in the world today.
Aptech has been reviewed and approved as provider of project management training by Project Management Institute (PMI®). As a PMI Registered Education Provider (R.E.P), Aptech Limited has agreed to abide by PMI® established quality assurance criteria.
Aptech offers a 4-day (35 hours) PMP Exam Preparatory course:
Conducted in convenient weekend & regular classroom batches
Includes online mentoring, i.e., post-training support of 3 months from the date of completion of the course
Includes e-learning courses with mock PMP exams for further practice
Study with Aptech's proprietary course material aligned to PMI's official PMBOK® Guide
About the exam
The PMP exam takes into account all five phases of the PMBOK methodology, that is:
Initiating the project
Planning the project
Executing the project
Monitoring & controlling the project
Closing the project
Testimonials

"PMP exam is more of a way to test one's way of thinking & to assess an individual's tentative behavior if faced with a project management situation. And I feel that Aptech helped me align my thought process with what's expected by PMI®. Aptech's trainers along with PMBOK® Guide (the Bible) did provide for an excellent launch pad, from where I had to just shoot and make the project of attaining PMP, a success.
PMI randomly selects some number of applications for audit, and mine was one among them (believe me, a huge effort is required to furnish their requirements). To facilitate PMI's audit process, it is required that a complete set of documents are furnished in hard copy format to PMI, USA. And Aptech helped me in consolidating the dossier to the full satisfaction of PMI. The trainers & admin staff were all very supportive - which helped me sail smoothly through the heavy-on-head Audit. Must thank all of them for everything."
- Milan Kumar
---

"The PMP training was conducted in an environment which was conducive for experiential learning. In fact, the group discussions helped the class come up with all possible 'incorrect' answers until we finally understood the correct one.
The study material provided - and especially the guidance on how to objectively crack the exam - was out of the world! I recollected some funny anecdotes that Yatin had mentioned in the class while taking my exam (it helped me cool my nerves during a difficult question); this itself speaks volumes for the course and the way it was conducted.
I wish the Aptech team all the best and hope many people benefit from their focused teaching methods."
- Harshal Sulakhe
---

"My endeavour to complete my PMP certification turned out to be an amazing experience with Aptech. Their training truly emphasizes the principles of Project Management and makes you understand the significance of applying them in your personal and professional lives.
I was impressed with the way Aptech goes about reinforcing these aspects in a silent but professional manner. It was a great learning curve since we are grouped together in a batch of people with varied professional backgrounds where everyone is more than happy to share their different experiences. Ultimately, the training material and mock tests - not to forget the invaluable tips - ensured that we succeed in our examinations with flying colours!
Kudos to you. Keep up the fab work!
- Kshitij Chincholikar
---

"The training was focused, targeted towards PMP® & a learning experience too. Even after so many years of experience, I felt that this kind of training is something every Project Manager should go through & Aptech through its curriculum and its training helped us in getting that knowhow. The training was good, professional & very well-organized and while addressing all the knowledge areas, gave us an insight into how to approach the exam successfully. "
- Jude Xavier
---

"Excellent training, and a special thanks to our trainer from Aptech for his excellent work. It was a great help in understanding the PMP concepts and clearing the exam."
- Kyrus Nariman Antia
---
"The course was designed in a very efficient manner where we were able to get answers for all queries that we face in day-to-day life. It was really a good experience to get trained from a professional organization such as Aptech. I would definitely recommend Aptech to other prospective candidates."
- Vikram Bilgikar
---
"The course was well-organized & structured towards achieving PMP certification. I am very satisfied with the content. The course helped increase my confidence level of passing this exam. Yatin is an excellent trainer & reinforces concepts with real-life examples. The class was taken in such a way that I was able to concentrate throughout the sessions. He was available to answer queries even after the training session was over. I will give 100/100 for the whole training session."
- Raj Bhalla
---

"I was among the fortunate ones to attend PMP training conducted by Aptech. I was impressed with the professional and organized approach they had for PMP aspirants. The trainer and the facility were of a high class. The sessions were very interactive and informative. The various knowledge areas were explained by citing examples. Guest lecturers added more value with their experience and knowledge. The training and mentoring provided by Aptech imparted the aptitude and attitude for clearing the PMP exam. I am very pleased and happy that I chose Aptech for my PMP training."
- Gagan Sharma
---
Benefits of taking the PMP® exam
5 reasons for earning a PMP® credential:
Certification is an important step in career development & sets apart qualified and competent individuals. Here are five reasons why project management professionals become PMP-certified
PMP credential reflects achievement
The credentials show that you have demonstrated excellence in the field by meeting standard requirements established by global project management practitioners.
PMP credential can lead to greater earnings
Many credentials holders experience salary increase because of their certification status. In fact,
PMP is among the 15 top-paying certifications
Certified PMP professionals earn an average salary of $108,525*.
PMP credential can lead to career opportunities & advancement
As a PMP credential holder, you are recognized as a practitioner who has demonstrated competency in project management processes or in knowledge & experience in specialty areas of practice based on industry standards.
PMP credential allows for greater recognition from employers
PMP credential holders gain increased recognition from employers for taking the extra step in professional development.
PMP increases:
Agility, competitiveness, innovation, creativity, and responsiveness.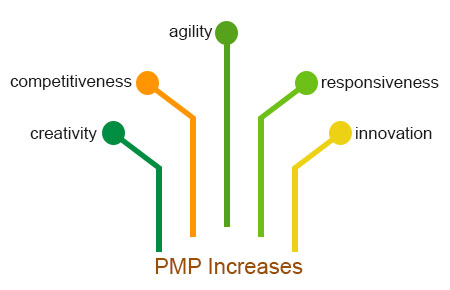 Eligibility criteria for the PMP® Exam
To qualify to appear for the (PMP)® examination, project managers should meet the following requirements:
A secondary degree (high school diploma, associate's degree, or the global equivalent) with at least five years of project management experience, with 7,500 hours leading and directing projects and 35 hours of project management education.
Or
A four-year degree (bachelor's degree or the global equivalent) and at least three years of project management experience, with 4,500 hours leading and directing projects and 35 hours of project management education.
PMP course structure
Aptech's 4-day (35 hours) PMP® Exam Preparatory course covers 35 Professional Development Units (PDUs). Completing the 35 PDUs is essential to appear for the PMP Examination.
The course covers 12 modules:
Day 1

Introduction, organisational influences and project life cycle
Introduction to key concepts in the field of project management. Provides basic structure for understanding project management

Project management processes
Concept of project management as a number of interlinked processes

Project integration management
Processes that help project managers ensure that all parts of the project work together

Day 2

Project scope management
Processes to ensure that the scope of the project is well-managed

Project time management
Processes required for timely completion of the project

Project cost management
Processes involving planning, estimating, budgeting & controlling project costs

Day 3

Project procurement management
Related to contract planning & administration

Project HR management
Help organise & manage human resource assets of the project

Project communications management
Fulfil communication requirements of the project

Day 4

Project stakeholder management
Identify people, groups or organisations that could impact or be impacted by project

Project quality management
Identify & apply quality standards for the project, leading to customer satisfaction

Project risk management
Help identify risks & develop timely responses early in the project
Wish to pursue the PMP training with Aptech? Register here.
Or call Aptech at:
022 - 42040128 / 9930840282
PMP, PMI & PMBOK® Guide are registered marks of the Project Management Institute, Inc.